Mens Bath Salts (What Are Bath Salts For Men?)
Bath salts for Men are a kind of personal care product that is added to bath water in order to get relax. Bath salts generally have a combination of minerals, like magnesium, potassium, and sodium chloride, along with essential oils, fragrances, or other ingredients. In the bath salt, and minerals are present to help soothe your sore and tender muscles, relieve stress, and improve skin hydration and overall health condition. Bath salts are available in a range of forms like loose salt crystals, pre-measured packets, and blocks and shapes, and could be found in a variety of scents from unscented to herbal, to floral and spicy. So what you are waiting for feel free to contact us for the best men's bath salts products.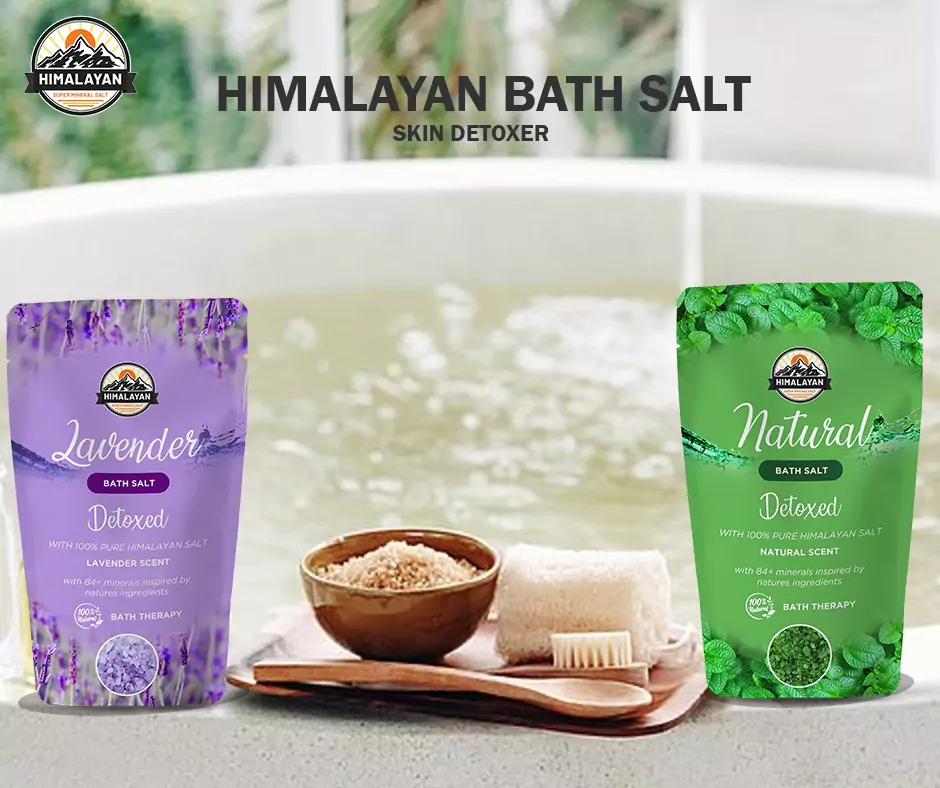 Let's see some common best men's bath salts that are highly rated by our consumers:
Dead Sea Salt: It is known for its highest mineral content, and is a common choice for promoting skin health and relaxation. And is considered the best Bath Salt for Men!
Epsom Salt: This salt is rich in magnesium and helps in soothing sore and tender muscles, relieves stress, and improves skin hydration.
Bokek Pure Dead Sea Salt: This Bokek Pure Dead Sea salt is made from a hundred percent pure Dead Sea salt and is free from dyes, fragrances, and other additives.
Dr. Teal's Eucalyptus and Spearmint Bath Salt: This blend of spearmint and eucalyptus essential oil is refreshing and could help in relieving stress and boosting skin condition.
Wild Things Dead Sea Salt Soak: This Dead Sea salt is enriched with potassium, magnesium, and other significant minerals to help soothe tender muscles and improve skin hydration.
Pacific Sea Salt: This salt is made from natural pacific sea salt, this bath salt is free from synthetic fragrances and additives, making it an amazing choice for those with sensitive skin.
Please note – it is always to remember to read the list of ingredients and to patch test the item before using it, particularly if you have any known skin allergies or sensitivities.
Our Mens Bath Salts Products
Himalayan Men's Bath Salts is a type of salt that is known for its rich mineral content and unique pink color. Men's Bath Salts products contain pure Himalayan salt crystals, or a blend of Himalayan salt and other minerals, essential oils, or fragrances.
SM Salt manufactures standard and premium quality Men's Bath Salts which work wonders in an extremely healthy and prosperous way to cure acne, breakouts, and flare-ups. It also helps in treating different diseases. It includes amazing benefits if it is used in a daily routine.
Some benefits of using Men's Bath Salts include improved hydration and skin condition, lessened stress and muscle tension, and boosted overall relaxation. When selecting Himalayan Bath Salts for Men it is significant to consider any skin allergies, also the desired fragrance or therapeutic effect.
Our products for Bath Salts for Men include:
Natural bath salt
Rosemary
Citrus
Wild rose
Wholesale Bath Salt Available
SM SALT provides Bath Salts for Men in wholesale. We have a variety of bath salt items for individuals and businesses that are looking to buy bath salts in bulk quantity. Wholesale Bath Salts for Men are a common choice for spas, hotels, and other businesses searching to provide the highest quality personal care items to their clients. They can as well be a cost-effective solution for individuals who need to buy salts in bulk for personal use.
The Men's Bath Salts provided by us are likely to be of premium quality, as the company specializes in this kind of item. The bath salts have a range of minerals and other important minerals like zinc, magnesium, and essential oils, designed to offer a range of therapeutic advantages for the skin and body.
When selecting a wholesale Bath Salts for Men provider, it is significant to consider aspects like quality of product, cost, and availability, as well as the level of customer support and services provided. SM SALT provides the highest level of customer support, as we specialize in Bath Salts for Men and have a comprehensive understanding of the market and its needs.
Closing the line with SM SALT's amazing products for Men's Bath Salts! We provide Men's Bath Salts products for businesses and individuals that are looking to buy the highest quality bath salts in bulk. With a focus on quality, client support, and a range of fragrances, SM SALT is a reliable and best option in order to fulfill all your needs and requirements.